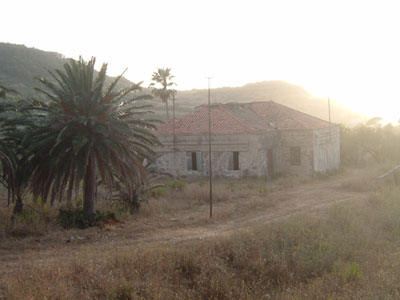 The family house
B&B Pessighette Country Retreat comes from the renovation, ended in 2010, of a family country house.
We don't know exactly how old the original part of the house can be, but the 80-cm-thick walls tell us of past days, hundreds of years maybe. Luigi Bachisio Cao, Aldo's grandfather, bought it in the thirties from a friend who had some money problems and worked to enlarge it to the actual shape. Just a curiosity: he paid Pessighette with the money obtained selling the pigs he breeded.
Pessighette was used by the family as a summer house. It was quite common in the past (and it still is now) to have the main house in Bosa and a second house with a belonging cultivated land in the countryside. Even if Bosa is really close, the family used to move there during summertime. And they lived continuously there during the Second World War, because it was believed to be safer than into town.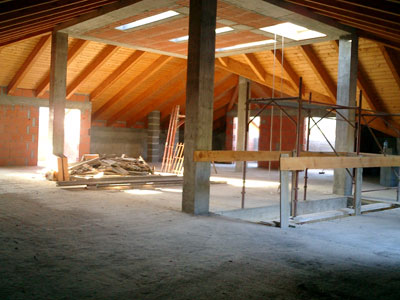 The renovation
Because of its age and its characteristic shape, typical of local countryhouses, Pessighette is considered a "historical building". Therefore, the project of renovation had to deal with the necessity of preserving  the external original shape. Originally, it was built as a one-floor house, the ceilings of the rooms were 4 meters high and a there was a habitable garret in the central part, which is higher. In the renovation, the house has been completely rebuilt from the windows on the ground floor up. The ceiling of the ground floor has been lowered to 2,70 meters in order to obtain a first floor to host the guests' rooms, which have by consequence a sloping wooden roof  and balconies obtained by openings on the roof.
The renovation has also given us the possibility of choosing eco-friendly solutions:  the heating comes mainly from a thermo fireplace fuelled by firewood, hot water and electricty are produced by solar panels and a photovoltaic system, fixtures are highly insulating, and the wooden roof is ventilated.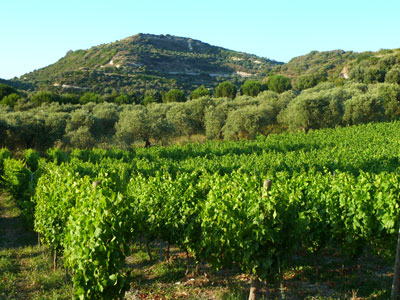 The property and the name "Pessighette"
Aldo's grandfather bought both house and grounds, consisting of 4 hectars of secular olive trees  and the vineyard with Malvasia grapes. Right from there comes probably the name "Pessighette": in the vineyard there used to be small peach trees ("pessighe" is "peach/peach tree" in the local Sardinian dialect and "pessighette" stands for  "small peach/peach tree").
Aldo's grandmother, Mercedes Cau Sechi, was an important producer of Malvasia of Bosa wine in the sixties, and the label painted by the renowned Sardinian painter Melchiorre Melis is probably the most well known label of Malvasia.
The olive grove is still producing a first rate extra-virgin olive oil, while the vineyard of Malvasia grapes has been replaced by red wine grapes: Cannonau, Carignano, Sangiovese and Cagnulari.